We at Little Handz Daycare use the award winning Early Learning Curriculum provided by
FUNSHINE EXPRESS
Through Funshine, we practice activities such as numbers, letters, colors,and shapes to further our learning and fun.




www.funshineexpress.com

We have also started doing weekly Show and Tell during preschool starting in September. The kids love to share with their friends.





LEARN
Children learn by doing! They are interested in hands-on materials and should be offered opportunities to make meaningful choices. It offers a wide variety of ideas to build early literacy, math, science and social skills.

GROW
We help you address each child socially, physically, emotionally, and cognitively! Our curriculums stimulate thinking, reasoning, decision-making, and problem-solving.

CULTIVATE
Our monthly curriculums offer a blend of child-initiated and teacher-directed activities. They are very flexible! Pick and choose from our activities to, meet the individual needs of the children in your group.

SUCCEED
Based on current early learning research, our curriculums actively engage children and support differences in learning styles, maturity, and interests. This guarantees that our curriculums have the depth to meet educational standards being implemented throughout the United States.











Daily Schedule:
Please NO calls between 11:30-2:30PM or after 8PM at night.
7:00-8:00 Quiet play
8:15 School age children go to school
8:30-9:30 Organized free play (A)
9:00-11:00 Pre-school or Outside play (B, D)
9:00-11:00 Music time, story time, organized free play (C)
11:00-12:00 clean up and lunch time
12:30-2:30 Nap or quiet time
2:30-3:30 wake up, school kids home and snack
3:30-4:30 School age has homework time and younger children free play.
A. Organized free play: This consists of playing with various toys, computer programs, educational videos, coloring, cutting, drawing and much more.
B. Pre-school: I have a monthly order shipped to me each month from Sept to June. There will be an additional monthly fee for the program.
C. Music time: Story time, and organized play: We listen to children's music CDs, and read children's books.
D. Outside: Play: Outside play consists of various toys, basketball hoop, soccer balls, frisbee's, jump ropes, tricycles and so on.
I will try to maintain a daily schedule as closely as possible, depending on the ages in care. At times a more flexible day will be necessary.
Field Trips:
We love field trips, so if you know of some great places please let me know so we can check them out.
Activities:
I have a wonderful outdoor play area for the children. A fully fenced yard allows the children to run, jump, scream, laugh and play as much as they want to. There is a large play area with many outside toys. I also have a wonderful concrete porch in the back that allows for riding cars. In the summertime we run through the sprinklers or play in the kiddie pool, providing it is hot enough. We also plan what I call a "Fun Week" every now and then. This may include, backwards day, all clothes are worn backwards and inside out, Pajama Day, (don't we all love to stay in our warm PJ's), Specific color of clothes for the day, say we all will wear the color red for the day, Stars day, everyone tries to find something with stars on it. Animal day, we wear clothes with animals on them, hat day, and much more. We celebrate the children's birthdays, and special holidays such as Valentines and Halloween with a party and costumes, Christmas (the kids and I exchange gifts.)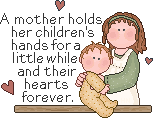 Home
|
About Us
|
Curriculum
|
Enrollment
|
Photos
|
Contact Us

WEBSITE CREATION BY:
THE DAYCARE RESOURCE CONNECTION
www.daycareresource.com
GRAPHICS BY:

Copyright © 1997-2004 Helena Normark/Graphic Garden.