PAGE DIRECTORY


Home

Basic Information
Map & Directions
Description


About Us:

Qualifications
Philosophy
Staffing
Meals & Menus Info
Parent Information
Reference Letters


Curriculum:

Funshine Express
Daily Schedule
Field Trips
Activities

Enrollment:

Registration
Daycare Fees
Trial Period
Financial Information
Forms
Yearly Closures
Personal Items
Additional Information


Our Daycare
Photos:
Our Enviroment
Creative Play
Outside Play
Lunch
Just Having Fun
Field Trips
Holidays


Email Me!!
LITTLE HANDZ DAYCARE
D&B Business Directory






Enrollment














Registration:

Please NO calls between 11:30-2:30PM
or after 8PM at night!!

A registration fee per child (Non refundable) is due upon enrolling to secure spot. Please call or e-mail me for more information, or to make an appointment to see our preschool/daycare, 425-238-2426 or Littlehandzdaycare@frontier.com




Daycare Fees:

Please contact me for fee's and drop in rates. Payment obligation is based on your reserved time, not actual time used. This way you only pay for the time you have reserved. Rates are on a per child basis and are quoted as a salary. Payment is due regardless of your child being present or not. The exception is if 30 days written notice has been given for vacation time.




Financial Information:

In addition to Private pay, I also accept WCCC (Working Connections Child Care) through DSHS. The WCCC program provides financial assistance for child care costs to eligible working families. To receive this assistance, families must meet certain requirements. To apply, a family must submit information to their Local Department of Social and Health Services.

What a Child Sees Poem
Why We Love Children




Personal Items:

These items are to be brought and left at the daycare by the first day of care.

A. Plastic bags for soiled / wet diapers
B. Bottles, nipples, bottle liners, pacifier
C. Diapers, diaper wipes
D. Change of clothing
E. Velcro or slip on shoes
F. Rubber boots
G. A bike helmet.






Yearly Closures:
The staff at Little Handz Daycare recognizes the following paid holidays for both Full and Part-time

NEW YEARS EVE DAY JANUARY
NEW YEARS DAY JANUARY
MARTIN LUTHER KING JANUARY
PRESIDENTS DAY FEBRUARY
MEMORIAL DAY AND THE FRIDAY BEFORE MAY
INDEPENDENCE DAY JULY
LABOR DAY AND THE FRIDAY BEFORE SEPTEMBER
VETERNS DAY NOVEMBER
THANKSGIVING DAY AND FRIDAY NOVEMBER
CHRISTMAS EVE DAY DECEMBER
CHRISTMAS DAY DECEMBER




Additional Information:

No Toys should be brought from home. They create problems with sharing, as well as broken hearts when the toy gets lost or broken. Small toys also create a hazard to our smaller children. The only exception to this is Show N Tell day. I keep the toys up until it is time for us to show them. Socks are required for all children daily while inside.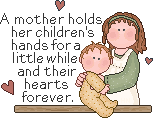 Home
|
About Us
|
Curriculum
|
Enrollment
|
Photos
|
Contact Us

WEBSITE CREATION BY:
THE DAYCARE RESOURCE CONNECTION
www.daycareresource.com
GRAPHICS BY:

Copyright © 1997-2004 Helena Normark/Graphic Garden.